Spinal Fusion Surgery- Understanding the Options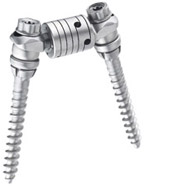 Many people ask what is spinal fusion surgery and what are the options and other spinal fusion alternatives besides disc replacement options?
Quality of a Fusion
When fusion must be done, either in combination with disc replacement or stand alone fusion, restoring the original disc spacing is important to achieve good results.
One revolutionary approach to achieve this spacing in the lumbar spine. The AxiaLIF (Axial Lumbar Interbody Fusion) System includes surgical instruments for creating a safe and reproducible pre-sacral access route to the L5-S1 vertebral bodies. The AxiaLIF technique features novel instrumentation to enable standard of care fusion principles, distraction and stabilization of the anterior lumbar column while mitigating the soft tissue trauma associated with traditional lumbar fusion through open surgical incisions. Using AxiaLIF, the lumbar spine is accessed through a minimally invasive opening adjacent to the sacral bone. This atraumatic tissue plane alleviates the need for the surgeon to cut through soft tissues like muscles and ligaments, thus lessening patient pain and the likelihood of complications.
The TranS1 3D Axial Rod is a titanium alloy implant that utilizes a differential thread pitch to attain distraction of the disc space during implant insertion
The CD Horizon Legacy Spinal System is one of the most popular systems for the surgical treatment of scoliosis. The CD Horizon Legacy Spinal System has been used to treat scoliosis since 2004. To-date there have been over 500,000 surgeries performed with the CD Horizon Legacy Spinal System.
The CD HORIZON BalanC Spinal System rod provides stabilization without fusion.
Multi level rod stabilization with fusion The dynamic portion of the CD HORIZON BalanC rod is designed to maintain motion, creating a transitional zone between fused and mobile segments.
The CD HORIZON BalanC Spinal System is compatible with the CD HORIZON LEGACY PEEK Rod Spinal System.
The CD HORIZON BalanC rod is made of silicone and polyetheretherketone (PEEK) in its dynamic portion, while the fusion portion is entirely made of PEEK.