Disc Replacement News- Spinal Kinetics M6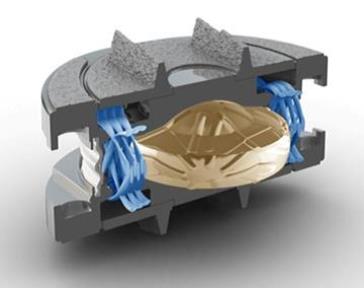 This "Quality of Motion" is a major patient benefit not available in any other implant!
Spinal Kinetics announces completion of 25,000 M6 Artificial Spinal Disc Implants
November 30, 2013 - Recently Spinal Kinetics reached completion of its 25,000th M6 Artificial Disc Replacement implant.
Dr. Karsten Ritter-Lang has placed over 6,000 ADR implants and was the first to implant the Spinal Kinetics M6 disc replacement.
Spinal Kinetics announces completion of 10,000 M6 Artificial Spinal Disc Implants
MARCH 22, 2011 - Spinal Kinetics, a leading innovator of advanced artificial disc technology, today announced that it has successfully completed the 10,000th implant of its M6 Artificial Spinal Disc. The M6-C cervical and M6-L lumbar artificial discs help patients suffering from degenerative disc disease of the spine; a common cause of chronic and severe back and neck pain. The M6 technology provides an alternative to spinal fusion and is designed to preserve motion and reduce the chances of subsequent degeneration of adjacent discs. Introduced internationally in 2007, M6 has quickly become a market leader in Europe and is available in over 15 countries worldwide.

"We are very excited about reaching the 10,000th implant mark so soon after introducing the M6 discs internationally," states Tom Afzal, Spinal Kinetics President and CEO. "The enthusiastic reception from both the spinal surgeon community and patients who have received the M6 disc has been extremely gratifying for the entire organization. We look forward to making the M6 technology available to more patients in more countries as we continue our international expansion and the next phase of our US clinical trials."
Feb 20, 2009 - Spinal Kinetics, a leader and innovator in advanced generation artificial disc technology, today announced the successful implantation of the first patient with the company's M6-L artificial lumbar disc, and the commencement of the system's initial commercial launch in Europe. This first procedure was completed in Germany by leading spine surgeon Karsten Ritter-Lang, M.D.

The M6 is the only artificial disc that replicates the anatomic structure and biomechanics of a natural disc by incorporating both an artificial nucleus and annulus. In the US, Spinal Kinetics has successfully completed an FDA IDE Pilot Study of the M6-C in patients with both single and two level disease, and has received approval from the FDA to initiate an IDE Pivotal Study. "Motion preservation with the M6 disc is a very exciting advance for spine surgery technology," states Carl Lauryssen, MD, Chief of Spine Surgery at Olympia Medical Center in Beverly Hills. "We have seen extremely high success rates with our patients from the FDA Pilot Study, and believe the technology is increasing the quality of life for patients with degenerative disc disease beyond what was previously available to them".
Unlike early Disc Replacement designs, the Spinal Kinetics M6 artificial disc is designed to replicate the structure and performance of a natural disc. Its innovative design incorporates an artificial nucleus to allow shock absorption and a woven fiber annulus for graded variable motion resistance in all directions.
These characteristics accurately replicate the natural disc, allowing the implant to work in concert with the remaining human discs. Unlike earlier "ball-in-socket" implants, with the M6 disc replacement the resulting natural functionality of the entire spinal curve will provide the best chance for a full recovery. In addition, future complications will be eliminated by reducing adjacent level degeneration and strain on the muscles and ligaments.